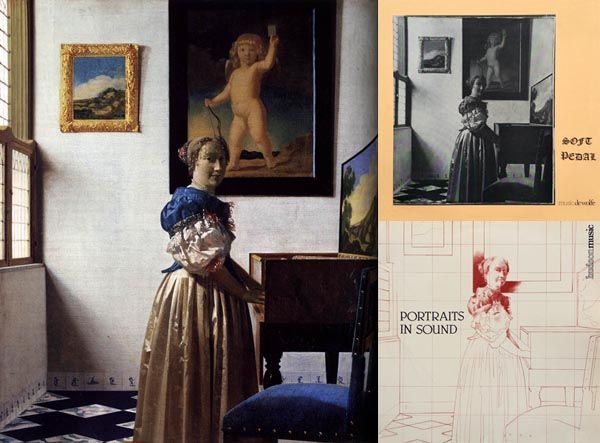 [De Wolfe] DWS/LP 3371 - Pieces Of Eight - Soft Pedal, 1977
h++p://www42.zippyshare.com/v/GS6hbYVT/file.html

[Hudson] HMCS/LP 538 - John Steinway - Portraits In Sound, 1983
h++p://www42.zippyshare.com/v/nXT9U1gX/file.html

     De Wolfe cover designer Nick Bantock must be a fan of Johannes Vermeer. Both of these covers reference Vermeer's "Lady Standing at a Virginal" (h++ps://en.wikipedia.org/wiki/Lady_Standing_at_a_Virginal).
     There is a great non-fiction film made by American magicians Penn & Teller called Tim's Vermeer. It is about a friend of theirs who thinks he has figured out the optical technique Vermeer used to create his highly photorealistic paintings. Tim Jenison recreates Vermeer's studio (also seen in the painting above) in a warehouse and, with no previous painting experience, attempts to redo a Vermeer.
     If you are a fan of art, Pen & Teller, or good movies, I highly recommend it. I've watched it three times since I got the blu-ray a few months ago. In fact, I may go and watch it again right now!
Last edited by a8detective (September 8, 2017 11:18 pm)